Imprint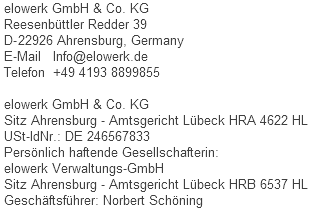 Liability Note
In spite of careful content control, we accept no liability for the content of external links. The operators of any linked sites are solely responsible for their content.
General Notes
All product information on this site are intended as a general guide to the product characteristics. elowerk reserves the right of changes without prior notice. The names, trademarks, goods descriptions etc. used on this site and elsewhere may be registered marks even when this is not specifically stated and are consequently subject to the relevant legal regulations.
Copyright
Copyright © 2009-2018 elowerk GmbH & Co. KG. All rights reserved.