eloZ1-PXI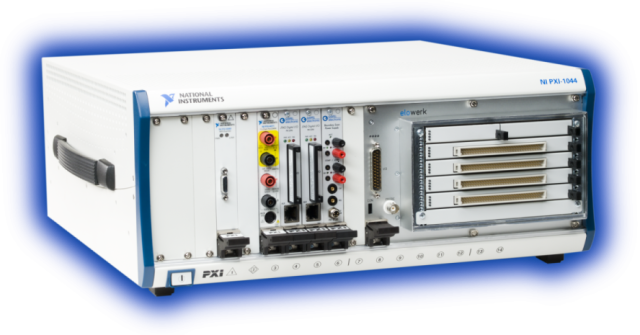 The eloZ1 Manufacturing Defects Analyzer is an in-circuit tester of the very latest generation, reliably detecting connection and assembly faults on printed circuit board assemblies. Its extremely compact size and modularity have allowed the creation of a PXI version, allowing the eloZ1 test functionality to be easily integrated into PXI systems. The picture shows an example of an eloZ1-PXI test system with additional functional test hardware.
Hardware Architecture
The eloZ1 is designed as a modular system. It can be customized to the respective test application.
Stimulus Unit

The analog section is galvanically isolated from the digital section.
Each generator has its own power supply.
The stimulus unit can be used as a voltage source or as a current source.
Basic version: up to ±10 V and up to ±1 A.
Sense lines allow precision measurements with controlled voltage at the UUT.
Current and voltage are measured dynamically and simultaneously.
Switching Matrix

A multiplexer joins the eight internal analog rails to four rails.
A full matrix connects the four rails to the test pins.
Maximum 320 test pins in the PXI version.
Options

Functional tests
Programming of Flash IC's etc
Boundary Scan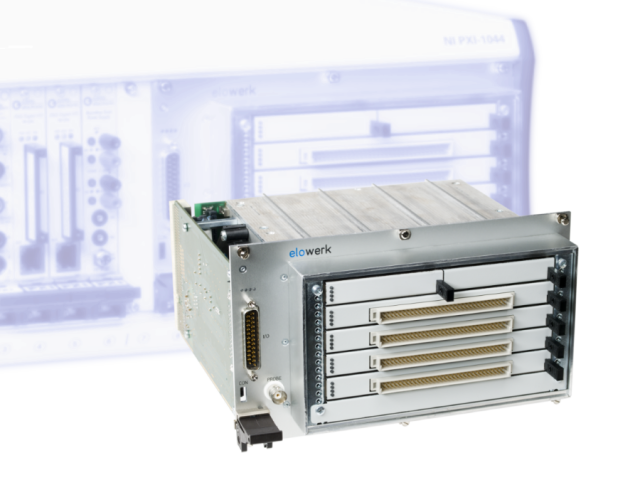 downlod PDF flyer